Trangressing Today
To transgress: simultaneously asserting a boundary and its limit, the finite and excess, law and desire. This aesthetic, philosophical, and political act underpins IRCAM's multidisciplinary festival and academy, ManiFeste-2014.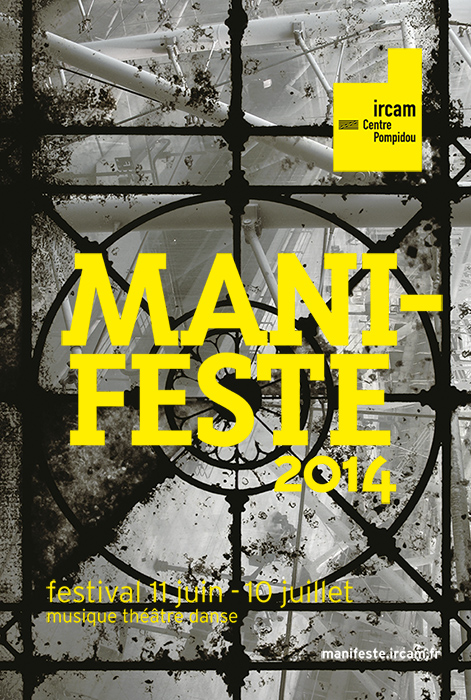 Which transgressions today are not avatars of the 1970s, nor ephemeral scandals lost in conventions – a bleak dialectic – nor formalized subversiveness? Among the savage singularities of ManiFeste-2014 are Pierre Guyotat seen by Stanislas Nordey, Georges Aperghis meeting Samuel Beckett, the voice of Michel Foucault, and the figure of the director-composer (George Benjamin, Péter Eötvös, Matthias Pintscher) transgressing the new separation between performing and conceiving.
What are we capable of seeing and saying, therefore of hearing, who states our time? The ideas of Foucault, a prodigy able to conceive new paradigms, provides us with a different vision of preconceived notions. Thirty years after his death, we "listen in" on his philosophy of the strength of power, the strata of knowledge, and self-governance during an international meeting and sound creation. Foucault's famous idea of the panopticon, seeing everything without being seen inspired the multimedia performance Luna Park by Georges Aperghis – a system of surveillance and auto-surveillance in the era of the NSA.
Transgressing the separation between "words and the thing" by sound? The imagination of Pierre Guyotat, the most musician of the French poets, binds human to animal, noble to ignoble, fiction to reality, language to sexuality, through the invention of a verb released from all society's imperatives. Against the inexpressible of the 20th century, the rhythm of the language, the breadth of an epic poem. A name must be given to the darkness because "there is always a word to describe the worst"; one must encourage phrasing, the obligation of authors and musicians. For this, Georges Aperghis sought out the writing by subtraction of Beckett to invent a "second time" (un "temps bis") that is a concert, an innovative reading, a sonorous stage.
Transgress the fissure between the discursive and the non-discursive? This fault line crosses the festival's rendezvous and concerts. Destroying gesture or the distant perspective of harmony, the fleeting instant (Raphaël Cendo, Chaya Czernowin, the shadow of Xenakis), or the primary harmonic, constituent of time for George Benjamin, Georg Friedrich Haas, and Philippe Leroux who slides constantly back and forth between texture and figure.
But what transgressions for IRCAM in 2014? Transgression is infringing on the demarcation between the scholar and the practitioner, between the "protected" human and "blind" technique, two erroneous epithets. A similar antagonism already opposed Rameau, a thinker, with Rousseau, a "melodist of the heart". Every époque has its fools' dispute. The issues of the future are the intimate alliance of the intelligible with the felt, of scientific and artistic invention. Isn't the supreme transgression for the laboratory of the place Stravinsky the world of electronics, freed of the instrumental – a simple sonorous finding, leading to new ways of existing on stage, new ways of listening and writing? Open the doors for an electronic and electric ManiFeste with the slogan by Gilles Deleuze one of Foucault's friends, "Never interpret, experiment!"
Frank Madlener