Academy
A major rendezvous for emerging creation in Paris, ManiFeste places music in the domain of the "arts of time" (theater, dance, cinema, staged visual arts, digital arts, etc.). The primary protagonists from the performing arts, the creator, the performer, and the technology included, are at the heart of hands-on workshops during this multidisciplinary academy.
Discover the ACADEMY'S PROGRAM | Download the ACADEMY YEARBOOK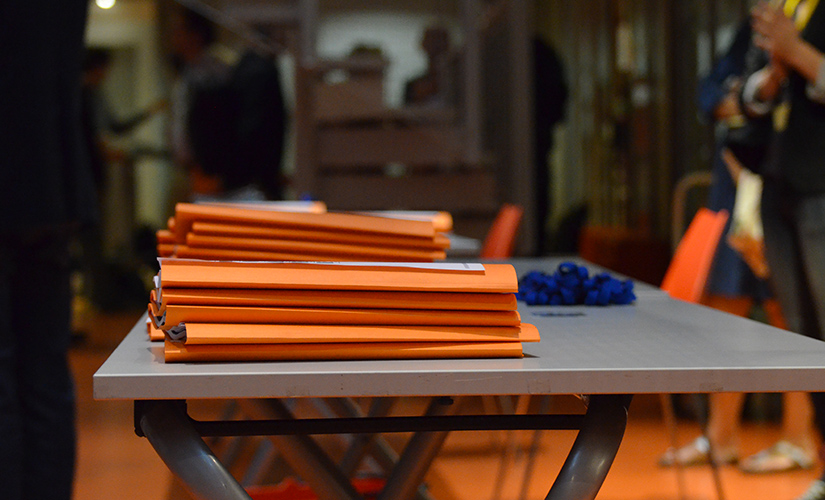 This year, the academy brings together Georges Aperghis, George Benjamin, Chaya Czernowin, Peter Eötvös, Robert Henke, Hèctor Parra, Julien Leroy as well as the Ensemble intercontemporain (the ensemble associated with the academy), EXAUDI, The Lucerne Festival Academy Orchestra, The Orchestre Philharmonique de Radio France, and the company ORO-Loïc Touzé.
In 2014, supported by today's top artists, the academy focuses on vocal writing, on musical drama, and on the creation of live performances in the digital domain.
The EXAUDI ensemble will return again this year: the British singers will join the Ensemble intercontemporain for the Composition Workshop for Two Voices and Conducted Ensemble led by Matthias Pintscher, and guided by George Benjamin. EXAUDI will take part in the In Vivo Danse workshop alongside the choreographer Loïc Touzé and his company ORO and will also lead a master class for small vocal ensembles.
Georges Aperghis and selection of his faithful performers will lead the In Vivo Théâtre workshop focused on musical drama, while the electronic music artist Robert Henke thinks of the work and the venue where it will be projected, in this case the CENTQUATRE-Paris's Nef during the In Vivo Electro Live workshop.
The academy benefits from its proximity to IRCAM's rich festival, enabling students to take part in a series of events associated with their activity: analysis of their works by composers and guests, Cursus 2 premieres, conferences by artists, an open space where students can meet and organize casual activities, concerts and experimental creations, presentations from IRCAM's labs. Two and a half weeks of intense activity during which the public will be invited to discover the results of the workshops.
Discover the ULYSSES COMMUNITY, platform designed for young artists and organizations active in the field of new music.
Four major partners are taking part in the organization of the academy: the Ensemble intercontemporain , the CENTQUATRE-Paris, the Orchestre Philharmonique de Radio France, and Les Spectacles vivants-Centre Pompidou. Major cultural and educational institutions support this third edition: the Conservatoire national supérieur de musique et de danse de Paris, The Council on International Education Exchange, The Lucerne Festival Academy, Charleroi Danses, Centre chorégraphique de la Fédération Wallonie-Bruxelles, micadanses, Paris, Le Fresnoy-Studio national des arts contemporains, and the European network Ulysses.